It's
Mr. and Ms. Bicol University
season again!
Getting effin' excited, huh?
I always anticipate for
Mr. and Ms. Bicol University
. It's the only time of the year when cuties from all over the university strut their stuffs in the stage and vie for the bragging right of being
Bicol University's most gorgeous
.
Last year's winners were
Joshua John Lopez
and
Yvette Santiago
. Yvette represented the Philippines in the just concluded World Miss University held in Korea where she bagged the
"Best in National Costume"
award.
Not bad honey, not bad.
Anyway, for sure, it's going to be an exciting-ultra-fabulous event which would give
"honor, fame and prestige"
to the winners. Here are my bets in this one-hell-of-a pageant:
MR. BICOL UNIVERSITY 2010
- Good looking, intelligent, witty and funny, Christopher is a sure shoo-in for the final 5. But he's facing a tough competition with that BUCENG guy so his road to victory wouldn't be that easy. Nonetheless, I expect Christopher to do very well.
Alternate:

Waylon Hank
(whattaname!)
Apodaca, College of Engineering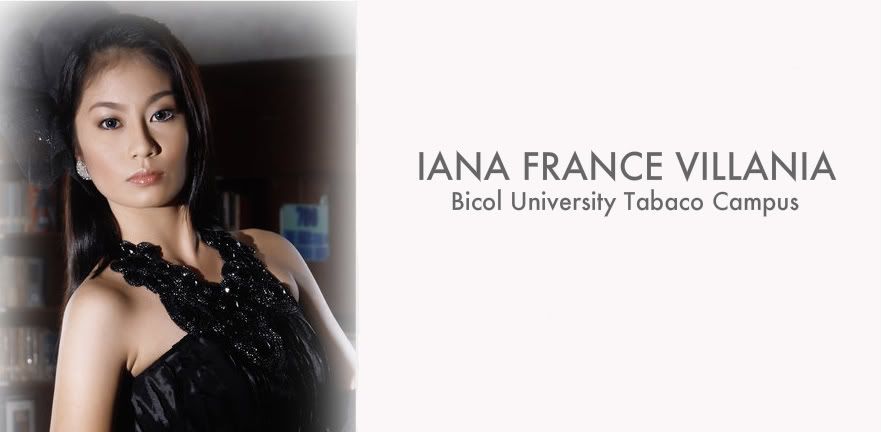 MS. BICOL UNIVERSITY 2010
- If they are searching for a real stunner,
its Iana babe hands down!
She is lovely and adorable. Add to that, she's eloquent.
What do you expect from an England-educated gal

?
Comes final night she will wow us more - hopefully.
Alternate:

Angeli Dela Paz, College of Nursing
I'm rooting (and voting) for Tope and Iana – 100% sure.
Don't vamp a reason that because they are my friends. I totally believe that they are worthy to be supported.
I'm just hoping that they won't be robbed this year; otherwise, I'll be disappointed.
TIP TO IANA & TOPE: Don't be intimidated with the bashers and your fellow candidates. Instead, learn from them to do better. Yeah, take it from the expert. LOL!
***

Voting for
Mr. and Ms. Bicol University 2010
"Most Liked in Facebook"
is open until 09.23.10, 6PM. Here's how to vote:
1. Go to the
pageant's official page
in Facebook. Click "like".
2. Then, proceed to the
album page
. Click the "like" button (again!) for your favorite male and female candidates.
PS. Don't forget to vote for my bets, blogger friends!


Photos courtesy of Mr. and Ms. Bicol University 2010 Facebook page